If you would like to play the guitar, you are very welcome here!
My name is Gino Koppelle. Ever since I was six years old I have been playing music. I started out on the piano, and a few years later I discovered my love for the guitar. I played the guitar in several bands and I also started singing. Then I began to write my own songs and my passion for music has only been growing. I have been teaching the guitar at several different locations, always enjoying it a lot! And since I studied sound engineering, I can also teach you how to record your own music.
What I find really important, is that students enjoy what they're doing:
The best way of learning anything, is to have fun while you're doing it!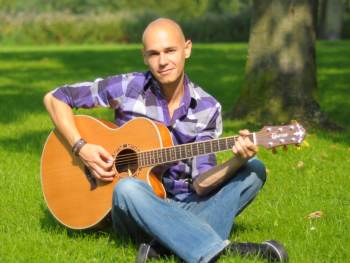 Personal approach
Every student is unique and everyone learns in a different way, and I will always keep that in mind. So you will be guided patiently towards your goal. Whether you choose to play the acoustic or the electric guitar, I will teach you what you want. And it doesn't matter if you are old or young: everyone who is motivated, will enjoy learning how to play the guitar.
High quality
The lessons are designed in a way that you will quickly reach a basic level. This means that we will soon be able to start playing the songs that you like!